Exhibition: Past and Present in Art Therapy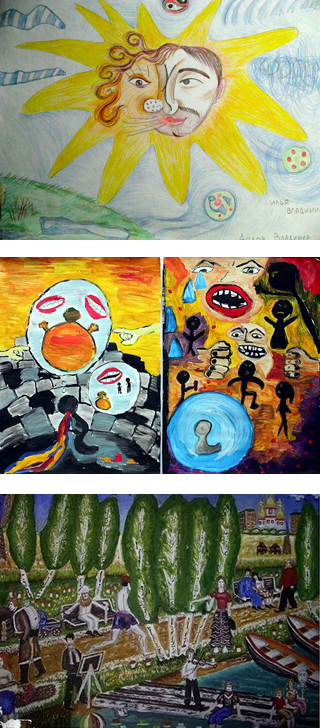 Paintings by patients of
Dynamic Psychiatric Hospital Menterschwaige, Munich
No. 2 Novgorod Region Mental Hospital, Novgorod
Orenburg Regional Mental Hospital, Orenburg
P.P. Kashenko 1st St. Petersburg City Mental Hospital
V.M. Bekhterev Psychoneurological Research Institute, St. Petersburg
Opening:
March 23, 2011 at 2:30 p.m.
Greetings:
Dr.med. A.-U. Walther, Psychiatric Hospital of the Ludwig-Maximilians-Universität Munich
Introduction:
Prof. Nikolaj G. Neznanov, President of the World Association for Dynamic Psychiatry, St. Petersburg
Dr. med. (Univ. Tel Aviv/Israel) Egon Fabian, medical director of the Dynamic Psychiatric Hospital Menterschwaige Munich
Georg Kress, art therapist at the Hospital Menterschwaige Munich

Exhibition dates:
March 21 - May 15, 2011
Location:
Exhibition room of Psychiatric Hospital of Ludwig-Maximilians-Universität Munich
Nussbaumstr. 7, 1st floor
Opening hours:
Monday - Saturday 9:00 a.m. - 6:00 p.m.
Flyer with more informations (JPG, 1 MB)
Contact:
Klinik für Dynamische Psychiatrie Menterschwaige München GmbH
Georg Kress
Geiselgasteigstr. 203
81545 München
Phone: +49 (0)89 642723-0

http://www.klinik-menterschwaige.de
http://www.georgkress.com